This is my son Evan, (at age 3) and here is his story of surviving childhood stroke.
Evan Gabriel suffered a massive hemmorhagic stroke on April 23, 2006. His stroke has been called "Deep cavernous thrombosis", "Basal Ganglia infarct", "Thalamic infarction involving deep sinus veins" and "CVA s/p intraventricular hemmorhage". All of the above terms are correct as my son's stroke was very severe and very rare. All of the causes so far.......are unknown. His recovery over the last 5 years was amazing. He relearned to walk and eat and play. He had a catastrophic seizure in February that has set him back to zero. He is having a hard time relearning all of these things AGAIN. I believe in him though. Evan is beyond amazing.
WHY IS THIS STORY CALLED "PENNIES FROM EVAN"? CLICK HERE.

Learn MORE about CHILDHOOD STROKE!
PLEASE educate yourself!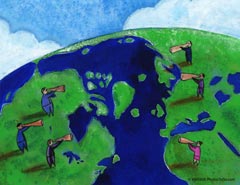 The power of prayer and good will has named this site.